18 August 2022
Originally published by IITA, 4 August 2022
The NextGen Cassava Breeding project, the IITA Cassava Breeding Unit, and Sahel Consulting organized a triadic comparison of technologies (Tricot) workshop with the Nigerian variety release committee recently. Sahel Consulting works with the Nigerian Variety Release Committee, through the Collaborative Seed Programme (CSP), to innovate the procedures and approaches used to enable variety release. The workshop proposed employing Tricot as an alternative and better way for on-farm testing with farmers and processors. Representatives from CGIAR research centers and National Agricultural Research and Extension Systems (NARES) from various African countries shared experiences with the Tricot method. The workshop moderated by Prof Chiedozie Egesi, Project Leader for the NextGen Cassava Breeding, highlighted the procedure for variety release, among other key areas.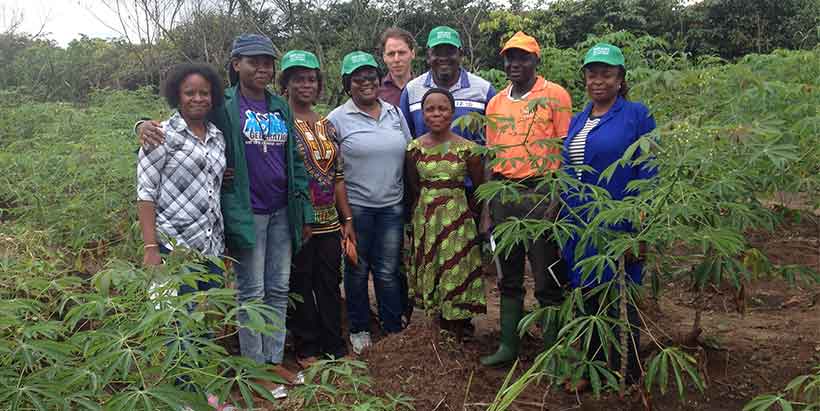 During the opening remarks, National Variety Release Committee Registrar, Dr Sunday Aladele, shared the idea and process that birthed the need for the Tricot workshop. According to him, consideration to include the Tricot system in the variety release system results from brainstorming on the best way to reduce the length of time and generate more representative on-farm data that will meet the National Variety Release Committee's requirements for registration and release in Nigeria. "This was because recent studies showed that Nigeria's variety release system is one of the lengthiest in Africa," he said. Chinedu Agbara presented the Collaborative Seed Programme objectives that aim to increase efficiency, transparency, and accountability in the variety release system, which will be a critical contributor to a broader seed sector transformation.
Presenting on Tricot insights, Ann Ritah Nanyonjo, a researcher at Uganda's National Crop Resources Research Institute (NaCRRI) Cassava breeding team, shared Uganda's experience with Tricot. She mentioned that one good quality of the approach is that many farm households are engaged in the trials. Nanyonjo added that using Tricot trials results in quick dissemination of candidate cassava clones and the release of varieties with farmers-preferred characteristics. "Local seed systems are strengthened because more choices are available to adapt to the changing climate," she included.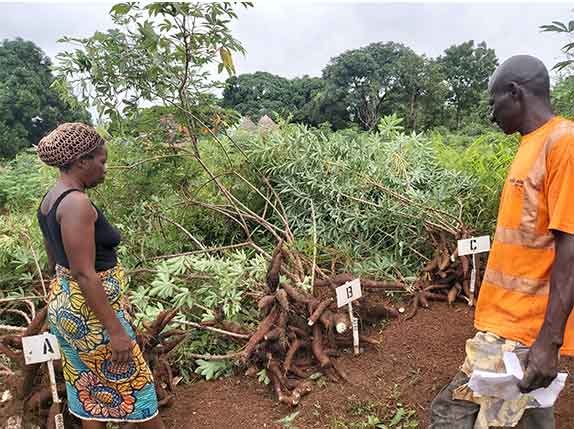 Jacob Van Etten, Research Director, Alliance of Bioversity International and CIAT, highlighted the benefits of Tricot. According to Van Etten, Tricot enables small and easy tasks for each participant, keeping them motivated. He also mentioned that the process is supported with digital tools resulting in quick analysis and robust data. "Tricot makes new types of partnerships possible," he added. Sharing next steps, Van Etten stated the need for more capacity building on Tricot; developing protocols for specific crops and contexts; agreeing on the role of Tricot in variety release; and developing new partnerships that can create win-win situations.
Sharing Ghana's experience with Tricot, Richard Oteng-Frimpong, Head of Groundnut Breeding in Savanah Agricultural Research Institute (CSIR-SARI), spoke about some barriers faced in implementing Tricot in groundnut production. He said requirements for crops with low multiplication rates like groundnut could limit the number of participants. He also mentioned that the availability of a reliable set of participants willing and able to participate in the process needs proper attention and skill. Oteng-Frimpong however, stated that despite the barriers the advantages clearly outweigh the barriers. Tricot has many benefits such as ability to reach large number of farmers and their ability to independently assess new genotypes. Other benefits include the low cost of capturing data and easy-to-do for a large number of people; and the approach does not require extensive training to use with support of the online platform.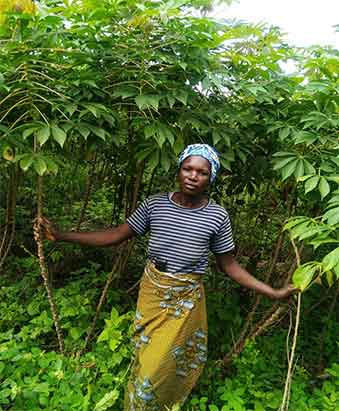 Béla Teeken, Associate Social and Gender Scientist at IITA, shared Nigeria's experiences with Tricot. Highlighting the gender perspective of the approach, he explained the influence of gender on variety preferences cassava. Teeken mentioned that gender was the most important socio-economic driver on variety selection. He however, emphasized that although gender was not the focus of the workshop, the Tricot method allows easy and standard segregation of participants according to social dimensions and therefore integrates gender and social inclusiveness without much extra effort. The CLimMob online data and data analysis platform (www.climmob.net) is able to provide those social and other dimensions that significantly explain the variability in the data. Such information can be crucial with regard to variety adoption. Furthermore, Tricot creates a network of experimenting users that can be used for further variety dissemination based on Tricot results and even offers a platform for the communication of other technologies.
Elyse Tuyishime from One Acre Fund in Rwanda shared the country's experience with Tricot. He stated that Tricot made on-farm testing so much simpler because much time is gained due to the standardized approach in which data entry, cleaning and analysis are so well streamlined and automated with all the room to include particularities related to the country and crop.
Kaue de Sousa, digital inclusion researcher from Alliance of Bioversity International and CIAT, spoke about data analysis of Tricot and how it can be used for decision making. He highlighted the integrative aspects of where Tricot data were combined with climate data. He further highlighted that Tricot expertise will be integrated as a knowledge skill in the curriculum of several African educational institutes and can count as a valuable part of several BSc, MSc and PhD trajectories. He also highlighted that the current 1000farms project especially targets the support of NARES in relation to capacity building needed to apply the approach.
The workshop revealed Tricot's potential in increasing the visibility of specific preferences by different social segments, ecological regions and intersection with gender. Importantly, it also showed the possibilities of linking Tricot data to climate and breeding data to provide various ways to test breeding trials' external validity and assess the genetic gain in farmers' fields.
The workshop took the Nigerian Variety Release Committee along in four areas: including more value chain actors than only farmers; notions of social impact of breeding and more representative feedback from users in general that can provide crucial information on the external validity of breeding trials; the importance of gender differences; and assessing genetic gain in farmer's fields.
Speaking at the workshop, Dr Ibidun Adetiloye, Desk Officer of National Variety Release Committee, stated that Tricot is a new innovation that has come to stay, serving as an alternative to the present method of on-farm testing. "From the presentations, Tricot is more cost effective and more farmers are involved compared to our current practice. I appreciate IITA and Prof Egesi for organizing the workshop," she said.
Aladele gave the closing remarks and indicated that the workshop has convincingly shown that it is a viable alternative for on-farm testing of crops for variety release. Prof Egesi wrapped up by appreciating his fellow organizers from various Institutes in CGIAR and also commended participants for their active engagement.
Watch this webinar on tricot: An Alternative Method for Crop On-farm Variety Evaluation Trials
Contributed by: Favour Eleta